Erika Alexander says 'Representation Matters' & Creates Production Company for Black Talent
Most black girls who grew up in the 90's remember Maxine Shaw; the smart, vivacious black woman lawyer character on the classic show, Living Single. Like other black sitcoms at the time, Living Single brought joy and laughter into our homes, providing inspiring and relatable content that we will remember and cherish forever.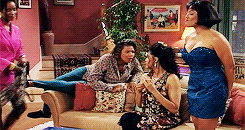 Maxine, formally known as Erika Alexander, has now taken her expertise behind the scenes to offer the same exposure that she was given, to other black women and people of color. Today on The Breakfast Club, Alexander spoke of Color Farm; a production company she was inspired to create due to the lack of opportunities for black and brown women in the media. 
Alexander says that she learned the importance of representation when recalling the countless testimonials from black women she influenced to become attorneys, simply from portraying one on television. Alexander explains that at Color Farm "diverse content reigns supreme" and is striking while the iron is hot as black viewers and consumers are starving for and flocking to films like Black Panther and other diverse projects. 
We applaud Alexander for paying it forward, and we are excited to see what Color Farms brings to us in the future. Check out her candid interview with The Breakfast Club below. 
Please reload