"Call it a clan, call it a network, call it a tribe, call it a family.  Whatever you call it, whoever you are, you need one." — Jane Howard
Growing up in an all-white suburb in Canada, there weren't a lot of black people for me to socialize with. I was itching for the kind of friendship I saw between Whitley, Kim, Jaleesa and Freddie on A Different World. But alas, no luck. Finally, when I began my freshman year at university, I was able to meet a wide range of incredible people from all racial backgrounds. Not only did college give me the opportunity to learn about multiple different cultures and expose myself to a variety of worldviews, but it also gave me the opportunity to build some of my strongest friendships. Bonding over bad dining hall food during freshman orientation was the catalyst to my making friends. And of those friendships, the relationships I've built with other black women are the ones that have lasted the longest.
Part of what makes black female friendships so special is that they offer a unique validation that the world often fails to give black women. Black female friendships are so deep and meaningfully because they provide something for black women that cannot be found anywhere else—total support and acceptance. I don't have to worry about my friends labeling me as angry, nor do I have to explain my feelings about race to them, because they already understand what it's like to be a black woman. We—black women— understand what it's like to experience both racism and sexism. Black female friendships give us a safe space to vent about the systems of oppression we face and to laugh about everyday blights and struggles.
As much I love the classic shows like Boy Meets World and How I Met Your Mother, most of them don't provide an accurate description of what it's like to be black and female in today's world. That's why some of my favorite shows are A Different World, Girlfriends and Insecure because they realistically portray what it's like to navigate the modern world as a black woman. They also give much-needed insight into what black friendship is really like.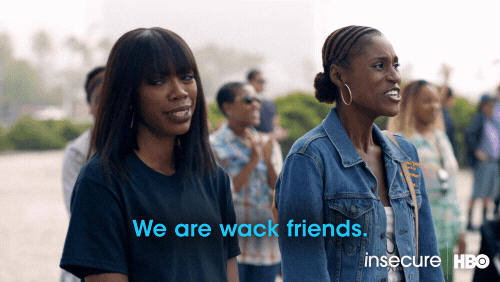 Despite this, the "lack of sincere sisterhood among Black women is commonly broadcast in television dramas starring black women", according to Marquita Marie Gammage. In her book, Representations of Black Women in the Media: The Damnation of Black Womanhood, Gammage explains how black female characters are routinely represented as not having other black female friends, or they are "unsupportive and hyper-critical" of the black female friends they do have. This is evident in multiple shows, such as How to Get Away With Murder, Scandal and Being Mary Jane. This kind of portrayal of black female friendships is harmful because it only promotes further division of the black community. Sisterhood and friendship is an important component of any well-functioning society, and any excessive promotion of broken friendships is anti-Black. Thus, we need way more well-written shows that depict black female friendships like Molly and Issa in Insecure, along with shows that actively deal with colorism, marriage, and the unique experience of being a black female in the workplace.
This is not an attempt to make you feel bad if you don't have black female friendships, nor do I intend to talk down to interracial friendships. The truth is, there's a special role that only black female friendships can truly fulfill, thanks to generations of rich history and culture.
If you find yourself lacking black female friendships, consider taking some time to reach out your community and develop some. It is wonderfully freeing to have strong relationships with people who relate to you and experience the same struggles and systems of oppression as you. You'll miss out on some great things if you don't take the time to develop meaningful black friendships.
Don't try to get through life alone – you need a squad of people who will support you and understand the role that race and gender play in your life. Life is better together.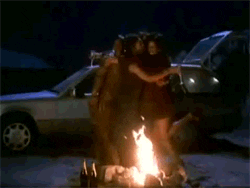 "While some have described her as overly opinionated, Grace much prefers the terms headstrong and passionate. She is a voracious reader, a dog-lover and a self-professed pop culture junkie. Her other hobbies include watching sappy romantic comedies, consuming too many strawberry-filled doughnuts and people-watching. Grace currently attends university, where she is working towards a Bachelor of Arts degree in English and Pre-Law."
Please reload